Recipes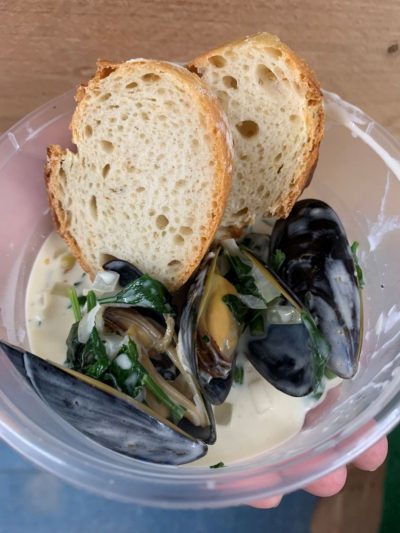 On these page we will be adding our best loved fish recipes and our top tips for fish.
At Something Fishy, we all love fish and so do our families. Everyone has their favourite recipe so here we will post a couple of ours.
As seen on our social media (Adams Favourite):
Moules Mariniere
Ingredients list (for 2people)
1kg x rope grown mussels
1 x white onion
2 x cloves garlic
1tbs x Olive oil (can you butter if you prefer)
150ml x double cream (keep at room temperature)
Fresh Parsley (good handful)
2 x glasses White wine
Salt and pepper
Method
Firstly prepare all your ingredients: dice your white onion and grate your garlic cloves.
Sort through your mussels, debeard the mussels and remove any broken ones. Any mussels that are open/gaping give them a few taps, if the mussel starts to close then they are fine. You may get a few that stay open discard this ones.
Heat your olive oil in a frying pan, once this has warmed add your onions and garlic. Stir these for a few minutes until soft and add black pepper.
Next Add two big glasses of white wine to your onions and garlic and then follow with the mussels and cream. (top tip make sure the pan is not too hot when you add the cream)
Let the ingredients simmer until the mussels all start to open (this usually takes 5 minutes).
Once your mussels are all opened add parsley to the dish.
Serve with fresh crusty bread and a nice large glass of white wine! Enjoy!
If you have a favourite fish recipe, then please send it through to our email: ahoy@somethingfishy.fish and we will publish it on our blog. It is always nice to learn new recipes from around the UK.
Something Fishy – fresh fish, crab and lobster from East Wittering, delivered to Chichester, West Sussex and Hampshire.