Home Delivery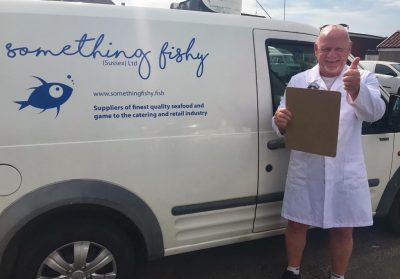 We offer our home delivery service Tuesday-Saturday.
Give us a call on 01243 671153 or pop us an email to ahoy@somethingfishy.fish, we ask that you please pre-order by the day before you'd like your delivery and we will deliver Fresh Fish straight to your door!
Our office opening hours
Tuesday 8am-1pm
Wednesday 8am-1pm
Thursday 8am- 1pm
Friday 8am-1pm
Saturday 8am- 1pm
If you have no answer please leave a voicemail or pop us an email and we will get back to you as soon as we can!
We can do any preparation you require: ie skinning, boning and Filleting. You have the option to have your order vacpacked (for freezing) or we can pop them in greaseproof bags for you -we only recommend this if you are eating the fish within 2 days. We are consciously trying to reduce the amount of plastic packaging.
Don't forget your neighbours! We have been recommending that neighbourhoods order together so we can deliver to one area at once.
We look forward to hearing from you all!
Please find below the selection of our most popular fish that we sell. This list will grow and change depending on what is in season and the conditions at sea.
We aim to get the portion size as close to your requirements, hence portion prices vary slightly.

When placing an order to please let us know if you would like a fillet (whole side of fish) or a portion (amount for one person) this make it easier for us when preparing your order.
PREDICTED LOCAL THIS WEEK
ROUGH PRICE GUIDE
Whole Plaice 300-600g N/A
Brill 700g-2kg £25whole fish weight can be filleted
Turbot 1-2kg Market - need to be pre-ordered
Local Dover Sole 350-400 £25/kg
Local Lemon Sole (can be filleted ) 300/400 grm £20/kg - whole fish weight can be filleted
Local Lobster Market Price
Whole Cooked Crab (selected) £10.00/KG approx 0.5 of a kg - EXPECTING AT THE WEEKEND
Local Selsey Crab Dressed Crab 170g £9.00 each
Local Skate Wing Cut into portions 300grm £14.99/KG skinned and trimmed
Local sea bass 700gr/1.5kg £20.00/KG
Monk fish tails 0.5/1kg £26.50/kg whole or portioned
Fresh squid 200/400grm £20.00 cleaned
Local Huss N/A - expected soon.
FURTHER AFIELD
Wild Sea Trout N/A
Gilt head Bream 800/1kg £13.99/kg whole fish, can be filleted
Sardines whole (Cornish) £5.50/kg
Sardines butterfly fillets (Cornish) £9.50/kg (need to be ordered (FROZEN))
Tuna Steaks (sushi grade) £35/kg
Sword Fish Steaks £33/kg (need to be ordered in advance)
Best Large Scottish Cod Fillets or portions £22.00/KG whole fillets approx. 1kg £20/kg
Scottish Haddock Fillets 0.5/1kg £18/kg
Smoked Haddock Natural or Yellow £20.00/kg
Hand Filleted Scottish Salmon fillets/portions -£26.90/KG whole fillet- approx. 1.5kg
Sea Bass Fillets 100/140grm £28/kg
Sea Bass Fillets 140/180 grms £32/kg
Scallops approx. 25 per kilo £45/KG
Irish Oysters £1.20each
Rope grown mussels 1kg £7/bag best to pre order
Plourde clams (small ideal for pasta dishes) £22/kg
Fresh king prawns cooked 25/30/kg 90p each
Fresh raw tiger prawns 20/30/kg 90p each approx.
Shell on north Atlantic prawns 500grm pack £4.99
North Atlantic peeled prawns 200grms £4.99 frozen for prawn cocktail
Trout rainbow (Whole gutted) 300/400GRM £14.99/kg
Cornish Hake Fillet/ portions approx. 200g £22/kg
Cornish Hake whole £12/kg
Mackerel 300/400 £9.99/kg can be filleted
Halibut Steaks £35/kg 250g per portion
SPECIAL OFFER
SCOTTISH SMOKED SALMON - SEVERN & WYE TOP QUALITY
1KG £35
500grm £18.50
200 grm £8.99
100grm £4.40
Hot smoked Mackerel Fresh £19.99/KG Approx. £2/Fillet
Marinated herring fillets 500grm tub sweet cure or dill £5.50/tub
Luxury Fish Cakes £1.50each
Fresh Local game from the south downs oven ready Please order by Wednesday to avoid disappointment
Game pie mix 500 grms pack £5.99
Venison haunch 2/4kg Available to pre-order
Partridge brace Available to pre-order
Pheasant Available to pre-order
other cuts available please ask .
Treat for your pets!!
Salmon Bellies - £2 a bag (fresh or frozen)
Very high protein source, extremely simple to cook- cut into chunks and boil in water for 10minutes, let cool and serve to your little 4 legged companion!
Rough portion size we are working to around 180g-200g per portion.
Seasonal Fish please see our catch of the day page for recommended seasonal fish!!