Something Fishy Fishing Tours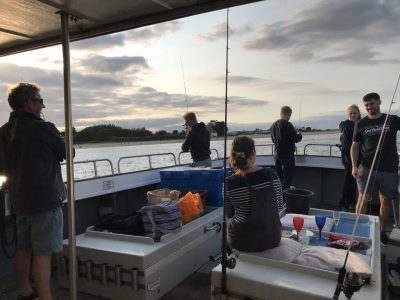 Something Fishy fishing tours
Why not find out where your fish comes from? Come along for a half day, full day or evening fishing tour? All of our fishing boats leave from the picturesque Harbour of Chichester.
What to expect
It doesn't matter if you are experienced or a complete novice, we are confident that you will thoroughly enjoy the experience. All of our fishing tours are fully licensed and insured. We supply the bait, rods and any tuition required. Our skipper has over 25 years fishing experience, so you will be in capable hands.
Catch & Cook
Have you ever fancied catching your own dinner or wondered which would be the best way to prepare and cook your catch?
Something Fishy Charters is offering a different kind of trip. A half day fishing trip, where you, your friends and family can not only catch fish but also learn the best way to prepare and cook it. The meal will be in the form of a BBQ, Sushi, Cerviche, Tagine or grilling, depending on what is caught on the day!
(Please note that this trip is only avaliable during the summer months and as a private charter only).
Call us on 01243 671153 for more details.
Fishing boats
We operate three twin engine modern fishing boats - Shawthing 11, Warrior and Final Answer. Top speed 20 knots complete with all fish finding equipment and safety gear.
Prices for fishing tours
Half day £40pp - Max of 10people on board (4hr trip). Private charter £400.
Full day £70pp - Max of 8people on board (8hr trip). Private charter £500, (all full day trips may include share of bait charge and rod hire)
Prices for Harbour tours and Seal Trips (Itchenor departure point)
Harbour and Bird watching trips £10pp -Max of 10people on board (45min trip) private charter £100.
Seal trip £25.00per adult and £20per child - Max of 10people on board (1hour 30minute trip). Private charter £250.
Group bookings
You can book a boat to yourself if you have 5 friends or more. Our boats are licensed for 12 (although we would recommend no more than 8 if you are having the boat to yourselves). For a great afternoon out, why not call and pre-book a trip with us - it will give you time to relax, catch up with friends and perhaps catch some dinner!
Fishing trips – dates and further information
We organise more than 100 fishing trips each year. To find out more information about our fishing trips including dates and the types of fish expected to be caught, please visit our website at: http://www.somethingfishyfishingcharters.co.uk or call Adam on: 07900086085.